1977 Yamaha RD400
This is my first big project and my first racebike. It took me quite a while to get this thing up and running. I think I finished it sometime in 1997, so it was a few years ago. I started with a used 1977 RD400 that was a complete runner. It had a set of pipes and was well tuned, after a short test ride I was hooked. I think the project took 2-3 years to finish. I modified a set of Honda CB1 forks and wheels to fit. The bike came with a set of Fox shocks that I rebuilt. The CB1 forks were revalved using a Race Tech gold-valve kit and help from my buddy Dave*. The bodywork was some crashed stuff from a TZ250 donated by fast racer dude and all-around good guy Derek McKelvie King. Rear sets came off of a CBR600, brakes came off the CB1.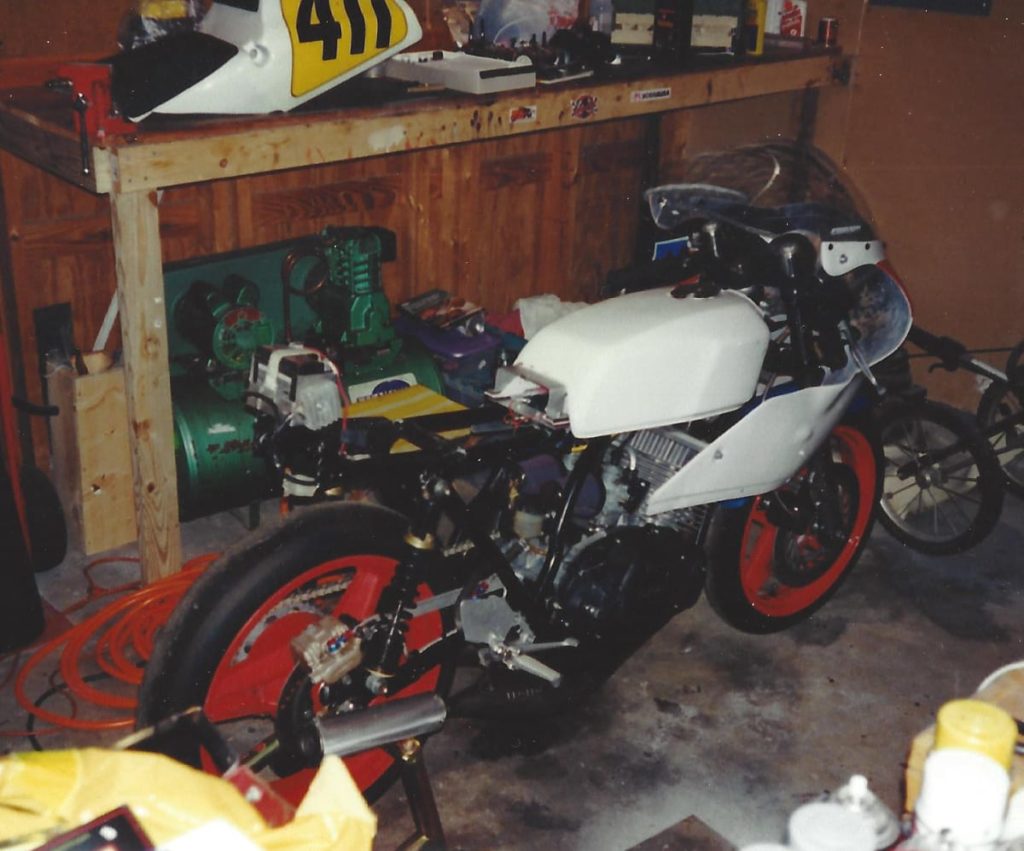 I did put some work into the motor, I put in a set of light-weight racing pistons and did some port work on the cases and cylinders. Dave gave me Phil Flack's number and he gave me a few good tips that I put into use. I installed a set of Dyna coils and some K&N individual "pod" air filters. The bores, heads and carburetors remained stock (well, except for a jet kit). I also put a set of new Proflo pipes on it. On the dyno, it put out 50HP at the rear wheel, not great, not bad. It really needed a bigger set of carburetors. Was a blast to ride…
Though it was fun to ride, it was not a good racebike as the gearbox was too "short-geared" and it had a bad habit of dragging its pipes.
*David McGrath: fast racer dude and all-around good guy…